This article contains the skills, stats, growth, and ability of Nero Claudius of the Saber class from Fate Grand Order [FGO].
Nero Claudius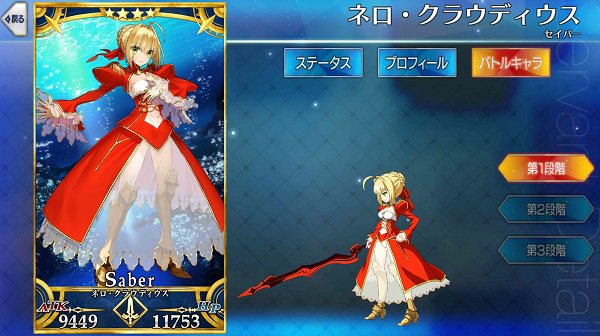 | | | | |
| --- | --- | --- | --- |
| HP | 1880 | ATK | 1574 |
| Max HP | 11753 | Max ATK | 9449 |
Strategy
A durable saber class servant due to the presence of several self-recovery Skills.
Similar to Saber Alter, she boasts high offense as well as defense whenever Imperial Privilege chance buffs succeed.
Having an Arts-type NP alongside her frequent Arts Card draws, she has the capability to extend Arts Chains decently.
She can function separate from the team through the availability of HP-recovery skills.
Nero Claudius' Noble Phantasm is notable for bypassing enemies' Defense. Whenever there is Overcharge, it provides a Defense drop to enemies. Execute a Brave Chain on the succeeding turn in order to deal immense damage.
Reinforce Thrice-Setting Sun to maximize its use in combat. This shortens the CT by 2 points from the base level.
Pair her with Hans Christian Andersen to further promote HP growth and chain Arts Cards.
Best Equipment
Given her Command Card draws and NP's nature, Formal Craft extends its effectiveness by a generous amount of 25~30%. This enables Nero Claudius to reap the most benefits from chaining Arts either by repeatedly drawing her own Arts Cards in a row, or combining them with other allies.

Projection is another suitable CE that grants a similar function albeit with a lower boost in effectiveness.