Arena of Valor World Cup Set to Break Prize Pool Record with Prize Pool
A record has been broken in the mobile-sphere, and the Arena of Valor World Cup (AWC) is the culprit. In a recent press release, Garena has stated that the tournament's prize pool has been set at 2,200,000 Malaysian Ringgit, totaling over 550,000 USD. This breaks the previous world record that Arena of Valor set during the Arena of Valor International Championship in November of 2017. Cash prizes will be awarded to teams and players for various accomplishments in the tournament, these ranging from their final standing in the competition to a number of special awards as well.
Prize Breakdown
As can be expected from a tournament, one of the chief ways to get a prize is to best your enemies in glorious combat. The top eight teams will each receive prizes as follows (USD amounts rounded to nearest dollar):
| Ranking | Prize Money (RM/USD) |
| --- | --- |
| 1st Place | 800,000 / 205,708 |
| 2nd Place | 400,000 / 102,854 |
| 3rd and 4th Place | 200,000 / 51,427 |
| 5th – 8th Place | 72,000 / 18,514 |
A number of other prizes are additionally available, either for teams or individual players. These are as follows:
Team Prizes
Prize
Prize Money (RM/USD)
Most Tenacious
20,000 / 5,143
Most Creative
20,000 / 5,143
Single Match Victory (73 total)
2,000 / 514
Individual Prizes
Award
Description
Prize Money (RM/USD)
1st
2nd
3rd
MVP
Most in-game MVP awards

40,000 / 10,285

N/A
Best Killer
Highest Number of Kills
14,000 / 3,600

10,000 / 2,571

4,000 / 1,029

Best Support
Highest Number of Assists
14,000 / 3,600

10,000 / 2,571

4,000 / 1,029

Best Damage Dealer
Most Damage Dealt/Gold
12,000 / 3,086
N/A
Best Tank
Most Damage Received/Gold
12,000 / 3,086
Most Creative Player
Most Creative Strategy with Unpopular Hero
6,000 / 1,543
Teams will receive bonuses for each match they win, encouraging a competitive spirit at even the lowest branches of the bracket. The most notable prize in the team rewards, however, is definitely the Creativity awards. Garena explains this as a way to get new and interesting play styles into the game's meta. Tournament participants should gear up for the occasional ADC Alice making her way to honorable battle.
The individual prizes are a nice addition, especially with the recognition of tanks and supports with prizes. Single players also have the chance to be individually recognized for unique game play. Hopefully the cash prize will offset the bitterness their team gives them for their attack-speed based Aleister.
Road to the AWC
The AWC will consist of twelve teams from the nine AoV regions around the world: Hong Kong/Taiwan/Macau, Thailand, Vietnam, Indonesia, Malaysia/Singapore/Philippines (formerly SEA), Korea, Europe, North America, and South America. With the Valor Series underway for North America and Europe, and Valor Cup Season 1 in the books, the competition is beginning to heat up all around the globe.
The MSP (Malaysia, Singapore, Philippines) Path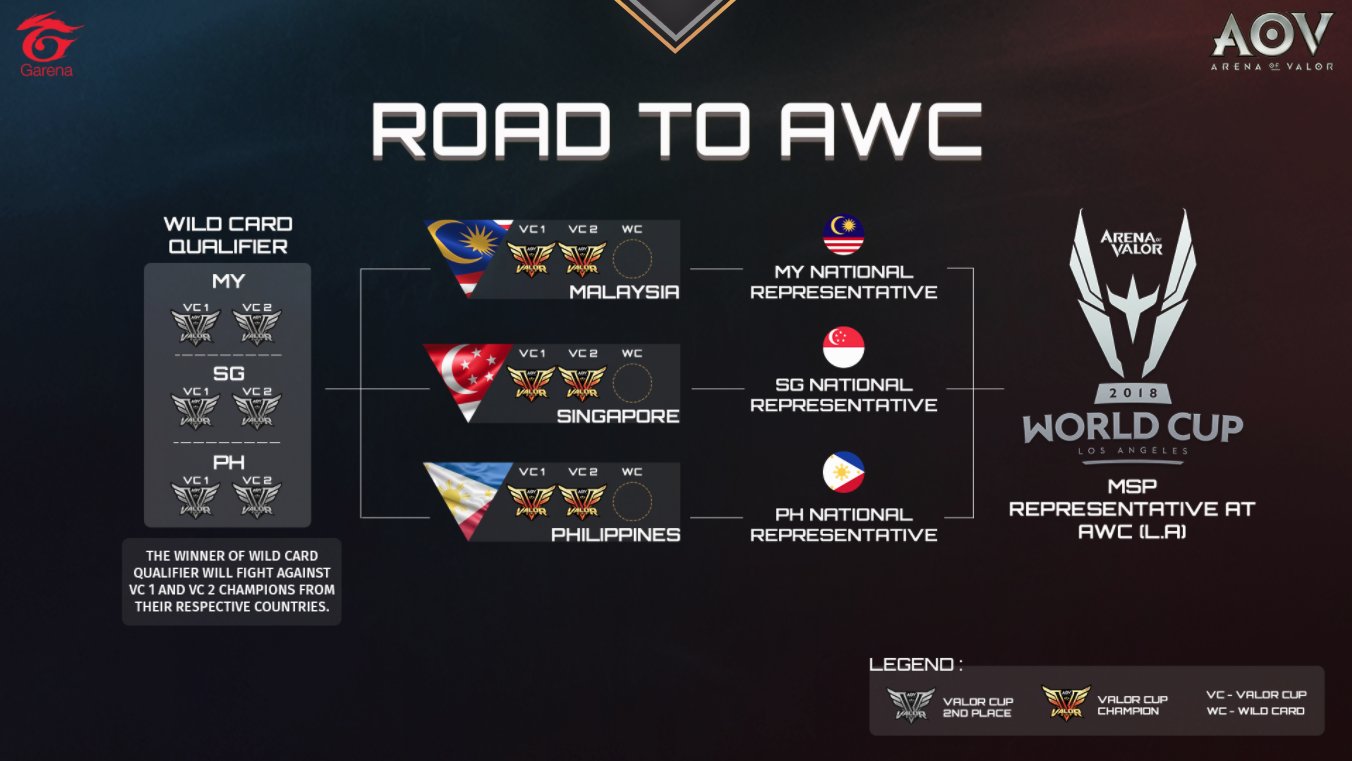 In regards to the Malaysia/Singapore/Philippines (MSP) region, the top four teams from the upcoming Valor Cup Season 2 will be invited to play against the top four of the past Valor Cup Season 1. The winner of these matches will be sent to the AWC as Valiant server's representative team.
More Arena of Valor World Cup (AWC) Resources
Arena of Valor (AoV) Recommended Article List